Plant-based curry
Would you like to make fresh plant-based curry yourself? It's easier than you think. Many ready-made products contain added sugars and additives. Once you've made this curry, you'll never want anything else. So simple and delicious!
Plant-based curry is a flavorful and nutritious dish that originates from the rich culinary traditions of Southeast Asia, particularly in countries such as India, Thailand, and Sri Lanka. This curry variant forms a healthy and balanced choice for both vegetarians and non-vegetarians, and it has gained global popularity in recent years due to the explosion of flavors and textures it offers.
A characteristic of vegetable curry is the diversity of vegetables used in its preparation. Colorful and nutritious ingredients such as eggplants, cauliflower, carrots, peas, and spinach are often combined to create a rich and varied taste experience. Additionally, spices like turmeric, cumin, coriander, and garam masala add depth of aroma to the dish.
Another aspect that makes vegetable curry so appealing is its versatility. You can opt for a creamy coconut milk base for a milder curry or choose a tomato sauce for a spicier variation. The use of various herbs and spices provides the opportunity to tailor the curry to individual taste preferences, making it suitable for both mild and spicy food enthusiasts.
Furthermore, vegetable curry not only offers a flavorful experience but is also rich in nutrients. Vegetables contain essential vitamins, minerals, and fiber that contribute to a healthy diet. Moreover, the combination of different vegetables can result in a well-rounded meal with all the necessary nutrients.
In summary, vegetable curry is a culinary journey for the taste buds, where vibrant colors, rich aromas, and diverse textures come together to create a delicious and nutritious dish that will delight both vegetarians and savory food enthusiasts.
What you need:
Brown rice
1 can of chickpeas
3 red bell peppers
1 onion
Piece of fresh ginger
2 cloves of garlic
2 diced tomatoes
3 tsp garam masala
2 tsp curry powder
1 tsp cumin powder
1 tsp coriander
1 red chili pepper
200 ml coconut milk
Topping: coriander and sesame seeds
Optional for the salad: cucumber in a dressing of sesame oil, soy sauce, and lemon juice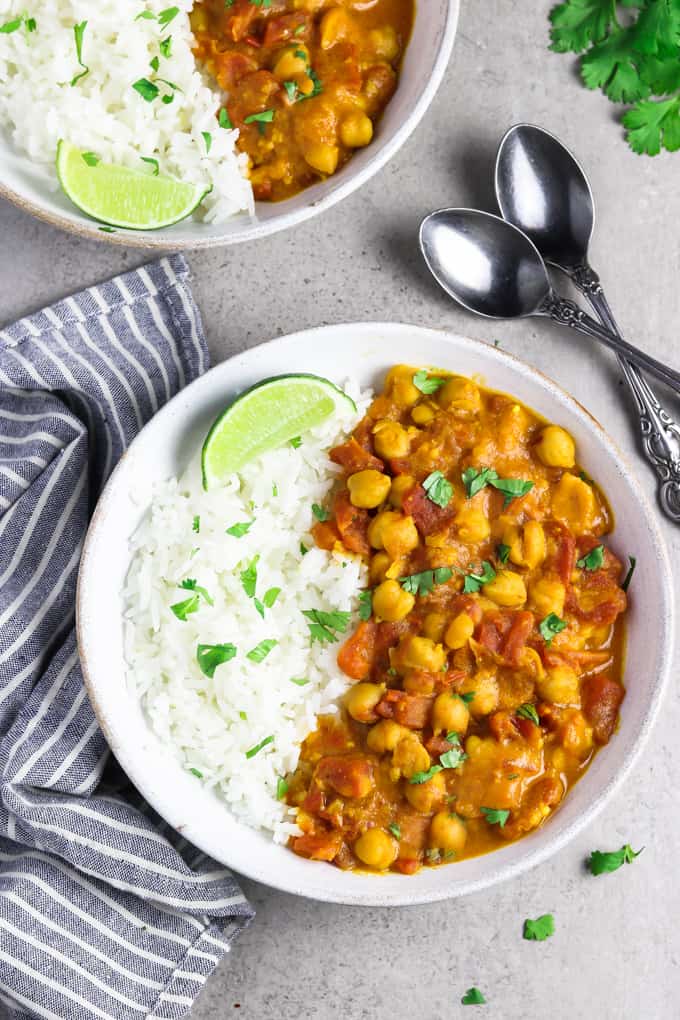 How to make it:
First, cook the rice according to the instructions on the packaging. Chop the onion, garlic, chili pepper, and ginger into small pieces and put them in the food processor with all the spices. Fry the curry mixture over low heat in a bit of coconut oil and then add the diced bell peppers and tomatoes. Let it simmer for 10 minutes, then add the coconut milk and chickpeas. Serve with a refreshing cucumber salad and brown rice.
All recipes from bbb health boutique are tasty, healthy and plant-based. Here you will find an overview of all our delicious recipes.

< Back