Tomatosoup with grilled bell pepper
This tomatosoup with grilled bell pepper is delicious in any season. The grilled bell pepper gives this soup a unique taste. Enjoy!
Tomatosoup with grilled bell peppers is a delightful variation on traditional tomato soup, adding an extra layer of rich flavors. The combination of ripe tomatoes and roasted bell peppers creates a deeper and more complex taste experience. The tomatoes provide the soup with a fresh and juicy base, while the grilled bell peppers add a smoky sweetness.
In the preparation, the bell peppers are first grilled, allowing their natural sugars to caramelize and develop a deeper flavor. These roasted bell peppers are then added to the tomato soup, along with herbs such as basil, garlic, and onion, creating a harmonious interplay of flavors.
Tomato soup with grilled bell peppers is not only a delight for the taste buds but also offers nutrients such as vitamin C and lycopene, known for their antioxidant properties. It's a heartwarming and nutritious choice, perfect for cold days or as a light meal.
What you need (for 4 persons)
 large onion, peeled and diced
1 vegetable stock cube (organic)
1 tablespoon of olive oil
4 garlic cloves, peeled and sliced
1 kilo of tomatoes
4 (sweet point) peppers
salt and freshly ground black pepper
1 bunch of fresh basil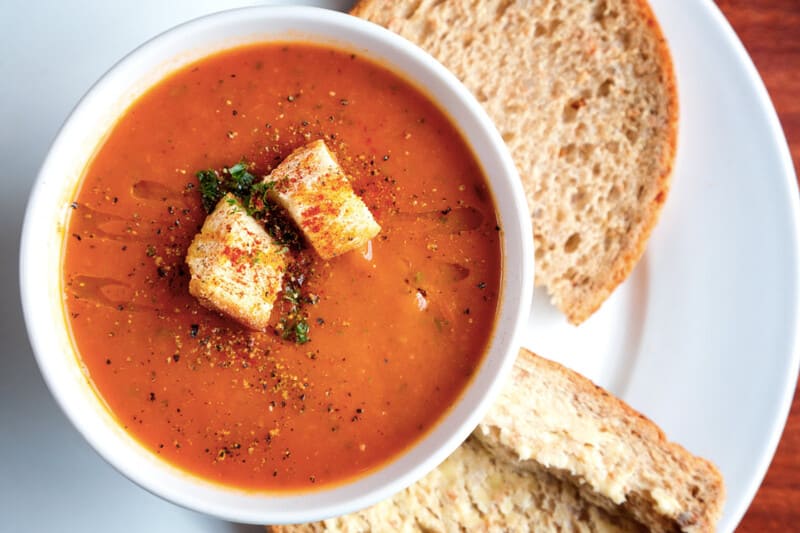 How you make tomatosoup with grilled bell pepper:
Preheat the oven to 200 degrees. Wash and dry the peppers and tomatoes, remove the crowns and seeds and place them in coarsely cut pieces in an oven dish. Peel the onion and garlic, cut into pieces and place between the red vegetables. Drizzle with olive oil and mix until all vegetables are covered with a little oil. Add salt and pepper to taste. Put in the oven for 25 minutes. Meanwhile, bring a pot with about a liter of water to the boil and add a stock cube. Remove the oven dish from the oven when the tomatoes and peppers have been released. Peel the skins and add all vegetables to the broth. Take the pan away from the heat and puree with a hand blender, put the pan back on the fire and stir well. Garnish just before serving with extra basil leaves.
All recipes from bbb health boutique are tasty, healthy and plant-based. Here you will find an overview of all our delicious recipes.

< Back