Four bean salad with beef tomatoes and watercress
This filling four bean salad with beef tomatoes and watercress can be kept for a few days. It is just ideal for making the day ahead for next days lunch. Healthy and rich in protein!
Beans and watercress form a nutritious duo that is not only flavorful but also offers a plethora of health benefits. Beans, such as black beans, chickpeas, or kidney beans, are rich in fiber, protein, and various vitamins and minerals. They promote healthy digestion, stabilize blood sugar levels, and contribute to maintaining a healthy weight.
Watercress, a leafy green known for its peppery taste, not only adds a delightful kick to dishes but is also packed with nutrients. It is an excellent source of vitamin C, calcium, and iron, contributing to strong bones, a healthy immune system, and optimal oxygen transport in the blood.
Combined in meals such as salads, stews, or soups, beans and watercress create a balanced and nutritious dish. The combination of plant-based proteins from beans and the vitamin- and mineral-rich content of watercress makes this duo not only delicious but also a valuable addition to a healthy diet.
What do you need (4 portions)
This recipe is from Sla | Organic Salad Bar. 
200ml plant-based or normal yoghurt, lemon & olive oil dressing
1 pot of chickpeas, drained 240g
1 pot of borlotti beans, drained 240g
1 pot of azuki beans, drained 240g
200g frozen garden beans
3 beef tomatoes
1 bag of watercress, 100g
1 bunch of basil, chopped
pinch of black pepper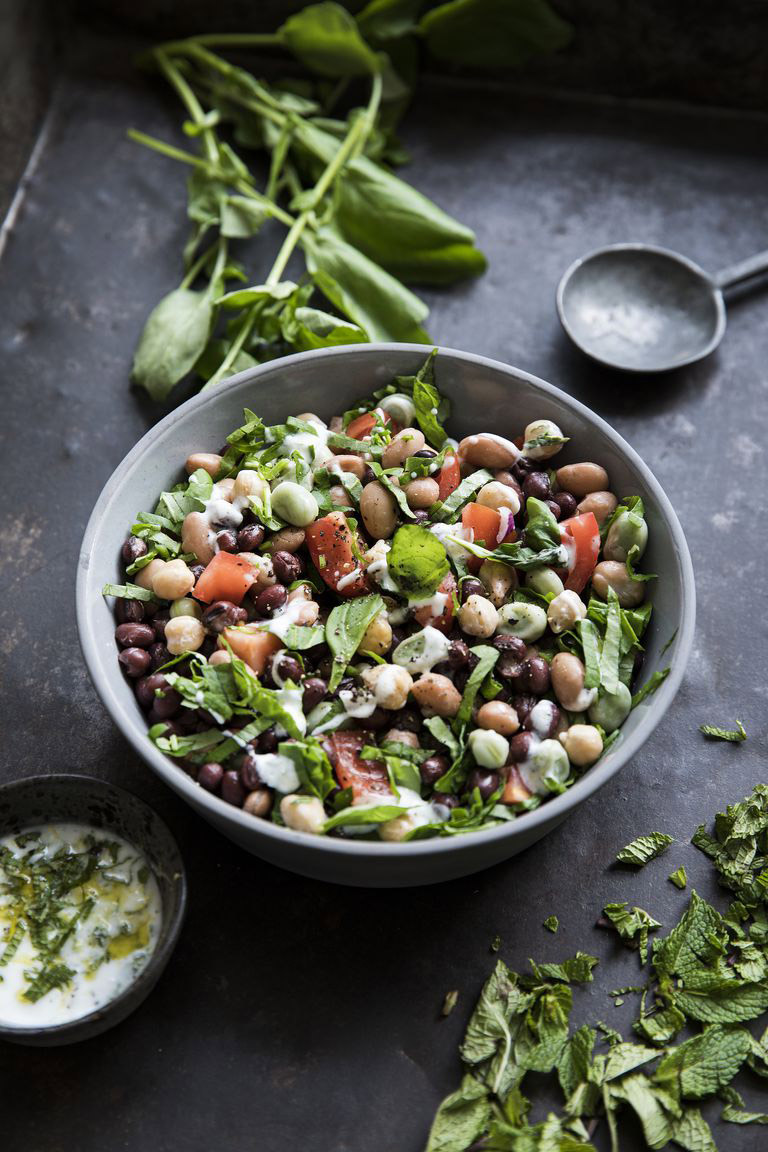 How to make it
Rinse the chickpeas, borlotti beans, and azuki beans well with cold water and allow to drain. Cook the garden beans for about four minutes in a large pan of boiling water and salt. Cut the tomatoes in pieces of 1/2 cm and chop the waterdress finely. Mix the ingredients in a large bowl and finish the salad with dressing, chopped basil and pepper. Enjoy!
All recipes from bbb health boutique are tasty, healthy and plant-based. Here you will find an overview of all our delicious recipes.

< Back