Autumn carrot bread
Are you already mouth watering when you see the picture above? Try our autumn carrot bread! Delicious during rainy days with a hot cup of tea!
What you need for autumn carrot bread
200 grams of carrots
2 ripe bananas
150 grams of spelled flour (wholemeal)
2 eggs
1 teaspoon baking powder
100 grams of dates
50 grams of raisins
20 grams of walnuts (or pecans)
1 teaspoon of gingerbread spices
2 teaspoons of cinnamon
1 baking tin for cake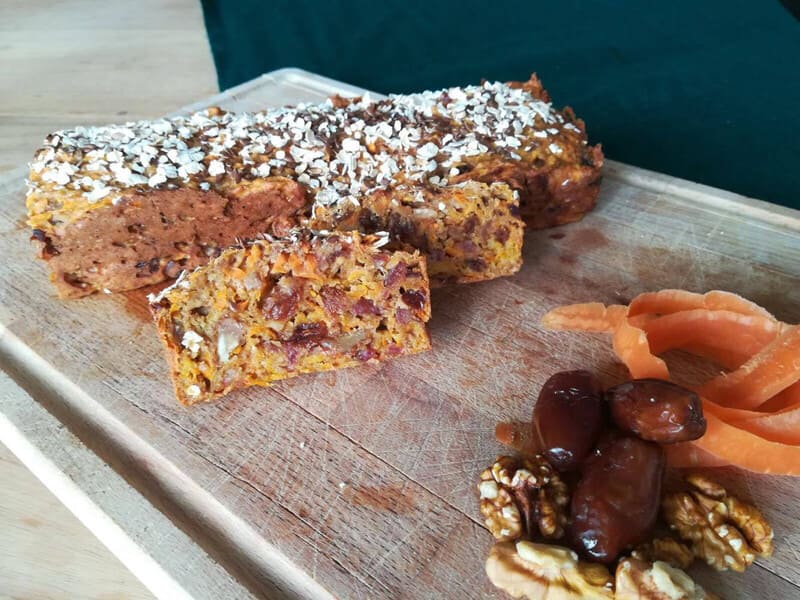 How to make it
Preheat the oven to 180 degrees. Grate the carrot in one jug and mash the two bananas with a fork in a batterbowl. Add the spelt flour, baking powder and the eggs to the mashed bananas. Stir the whole with a fork (or spoon) into a sticky dough.
Then add the carrot grates dates, raisins, walnuts and herbs and mix this with the dough. Grease the baking tin and divide the dough into the mold. Put the mold in the middle of the oven for 30 minutes and test after 30 minutes if the dough is well cooked. You can do this by putting a skewer in the bread. When nothing sticks to the skewer, the bread is cooked and you can best let the carrot bread cool for another 10-15 minutes outside the oven. Tip. If you do not have a skewer at home, use spaghetti to check if it's cooked!
Meanwhile, enjoy the delicious smell in the house and then you can feast on a delicious slice of autumnal carrot bread with a nice cup of herbal tea. 
All recipes from bbb health boutique are tasty, healthy and plant-based. Here you will find an overview of all our delicious recipes.

< Back