Banana bread without sugar
Looking for a sugar-free snack? Then try banana bread without sugar. This way you can snack tasty and consciously!
Sugar-free banana bread is a healthy and flavorful alternative to traditional baked goods. Instead of added sugars, this recipe relies on the natural sweetness of ripe bananas. By pureeing the bananas and incorporating them into the batter, a delightful sweetness is achieved without the need for extra sugar.
In addition to bananas, ingredients such as whole wheat flour, eggs, nuts, and a dash of cinnamon can be used to enrich the banana bread with nutrients and flavor. Whole wheat flour adds fiber, while nuts provide a crunchy texture and healthy fats.
This sugar-free banana bread is not only nutritious but also easy to make. It's a perfect way to use up overripe bananas and offers a delicious alternative for those looking to reduce their sugar intake.
What you need for banana bread without sugar
70 grams of almond flour
80 grams oat flour
6 medjool dates
3 ripe bananas
pinch of baking soda
pinch of tartaric acid
pinch of salt
1 el no-egg or 1 egg
a dash of apple vinegar
small glass of soda water
2 tbsp coconut shavings
hand hazelnuts
hand of almonds
hand raisins
seasoning to taste: cinnamon, cloves, nutmeg, fennel powder and vanilla powder
hand of raspberries and blueberries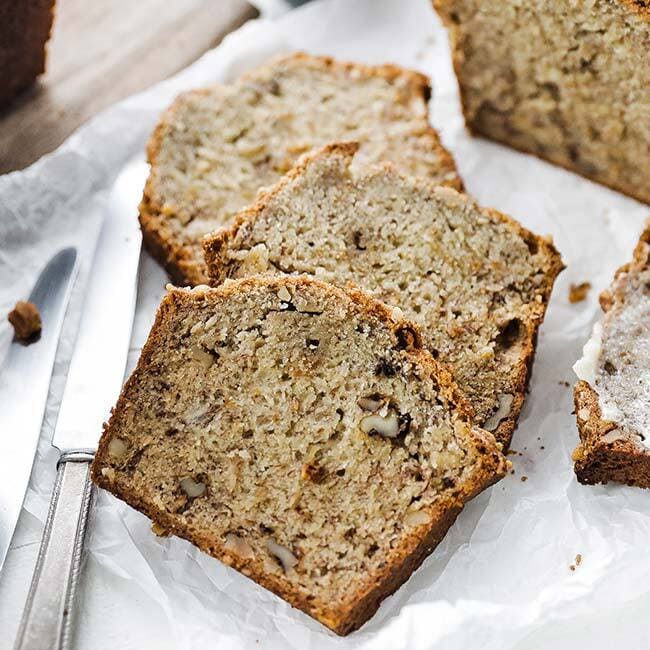 How to make it
If you do not have an airfryer, preheat the oven to 175 degrees. Take the pit out of the medjool dates and put all the ingredients in a food processor. Add spices to the mixture. Before the banana bread goes into the oven or airfryer, decorate the bread with raspberries and blueberries. If you use an oven, transfer the mixture into a baking tin and bake for 30 minutes in the oven. If you have an airfryer, bake the banana bread at 150 degrees for 30 minutes. Let your banana bread cool for a while and enjoy!
All recipes from bbb health boutique are tasty, healthy and plant-based. Here you will find an overview of all our delicious recipes.

< Back