Fishfree tuna salad
This delicious fishfree tuna salad recipe is from our sun & shine challenge guide. During this summerchallenge, powerful workouts and protein-rich food are central.
Vegan tuna salad, made with vegan tuna, pickles, and plant-based yogurt, offers a flavorful and ethical twist to a classic dish. Vegan tuna, often based on plant proteins like chickpeas or soy, remarkably mimics the texture and taste of traditional tuna, providing a satisfying and sustainable alternative.
The addition of finely chopped pickles adds a crunchy texture and a refreshing, tangy flavor that pairs well with the savory tuna substitute. Plant-based yogurt serves as a creamy base, giving the salad a smooth consistency and adding a subtle acidity.
This vegan tuna salad is not only animal-friendly but also rich in plant-based proteins, fiber, and healthy fats. It is versatile and can be served on bread, in wraps, as a filling for avocados, or as a topping for a green salad.
This innovative approach to tuna salad highlights the possibilities of plant-based alternatives, allowing people to enjoy familiar flavors without compromising ethics or health.
What you need for fishfree tuna (for 2 people)
1 pack of vegan tuna from the vegetarian butcher
3 pickles
3 tbsp plant-based yoghurt, unsweetened
1 half red onion
½ tsp mustard
pepper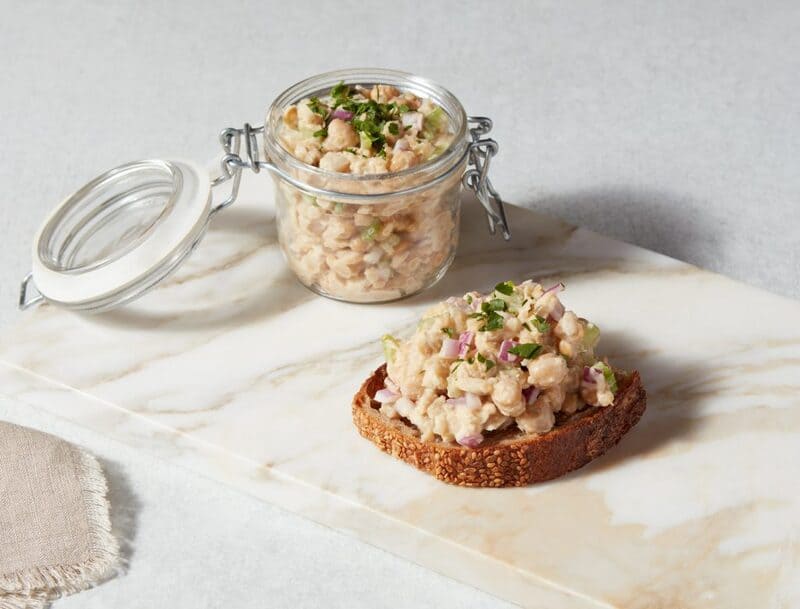 How to make it
Scoop out the tuna and rinse with water, then cut the pickles and onion into pieces. Mix the tuna with the pieces of pickle and onion in a bowl. Stir in the mustard, plant-based yogurt and onion. For example, serve the tuna salad on a quinoa, buckwheat cracker or cut two courgettes in half and hollow them out, and add the tuna salad. A nutritious and powerful lunch!
All recipes from bbb health boutique are tasty, healthy and plant-based. Here you will find an overview of all our delicious recipes.

< Back