Middle Eastern lentil-vegetable stew
Warm up your body with this delicious and healthy Middle Eastern lentil-vegetable stew! Enjoy!
Lentils, small legumes valued globally, are not only flavorful but also exceptionally nutritious, making them a valuable addition to a healthy diet. They are an excellent source of plant-based proteins, fiber, vitamins, and minerals. The combination of fiber and proteins contributes to a sustained feeling of fullness, which is beneficial for weight management.
Lentils have a low-fat content and are rich in complex carbohydrates, providing a stable source of energy and stabilizing blood sugar levels. They also contain iron, folate, and magnesium—essential nutrients contributing to red blood cell formation, cell regeneration, and healthy bone structure.
Additionally, lentils have favorable effects on digestion and cholesterol levels. They contain antioxidants and phytonutrients with potential anti-inflammatory properties, reducing the risk of chronic diseases.
Lentils are versatile and can be added to soups, stews, salads, and vegetarian dishes. Their nutritional profile and health benefits make lentils a valuable choice for a balanced and nutritious diet.
What you need (for 2 persons)
1 onion, peeled, finely chopped
2 cloves of garlic, peeled and in wafer-thin slices
little butter / coconut fat to bake
1 teaspoon of cumin
1 teaspoon coriander (ketoembar)
1 small tin of tomato paste
2 small cups of lentils (200 grams)
3 carrots, in thin slices
3 big hands young spinach (100 grams)
1 green + 1 yellow pepper, seeds removed, in cubes
10 cherry tomatoes
salt and black pepper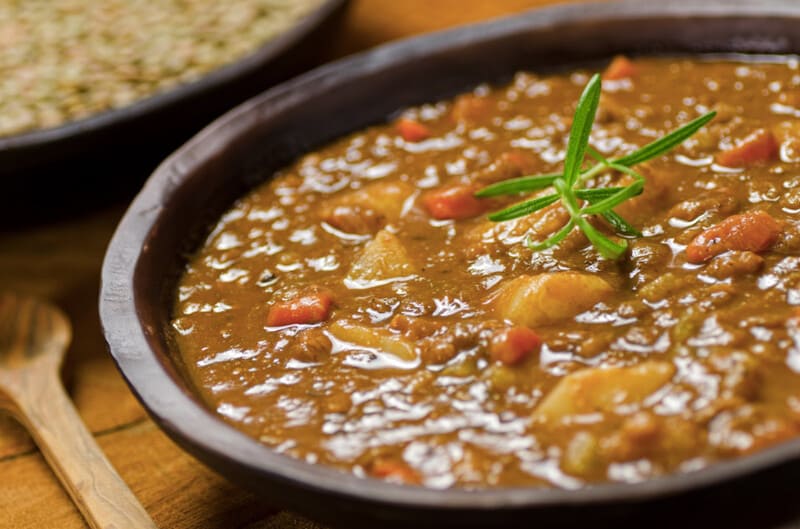 How to make it
Fry the onion, garlic, cumin, coriander in butter / coconut oil, fry the tomato puree and add the lentils. Extinguish with 1 liter of water and bring to the boil. Add the carrots after 15 minutes and simmer for another 25 minutes. Then add the bell pepper and let it simmer for 5 minutes. Then add the cherry tomatoes and spinach, season with salt and pepper and leave for another 2 minutes before serving.  Enjoy this Middle Eastern lentil-vegetable stew.
All recipes from bbb health boutique are tasty, healthy and plant-based. Here you will find an overview of all our delicious recipes.

< Back