Pumpkinsoup and vegetable wraps
Coach Melissa recently made this delicious pumpkinsoup and vegetable wraps with falafel for lunch. She is happy to share her recipe with you!
Pumpkin soup and vegetable wraps form a nutritious and flavorful combination that highlights the diversity of a healthy diet. Pumpkin soup, prepared with fresh pumpkin, embodies an autumnal warmth and rich flavor. Not only is this soup delicious, but it's also nutritious, packed with vitamins, fiber, and antioxidants.
On the other hand, vegetable wraps offer a light and crunchy option that tantalizes the taste buds while delivering a plethora of nutrients. Filled with a colorful mix of vegetables such as bell peppers, cucumber, carrot, and leafy greens, vegetable wraps provide an array of vitamins and minerals. They are often enriched with hummus or yogurt sauce for extra flavor and protein.
This combination is not only satisfying to the palate but also to the body. Pumpkin soup and vegetable wraps offer a range of nutrients, including vitamins, minerals, fiber, and healthy fats. This meal choice underscores the versatility and creativity possible when assembling healthy and balanced meals, where taste and nutritional value go hand in hand. Whether served as a hearty lunch or a light dinner, this combination remains a delicious and nutritious addition to a healthy lifestyle.
What you need for pumpkinsoup and vegetable wraps
For the pumpkin soup:
1 pumpkin
3 carrots
1 piece of fresh ginger
1 onion
2 cloves of garlic
1 can of coconut milk
2 tablespoons of sugar free red curry paste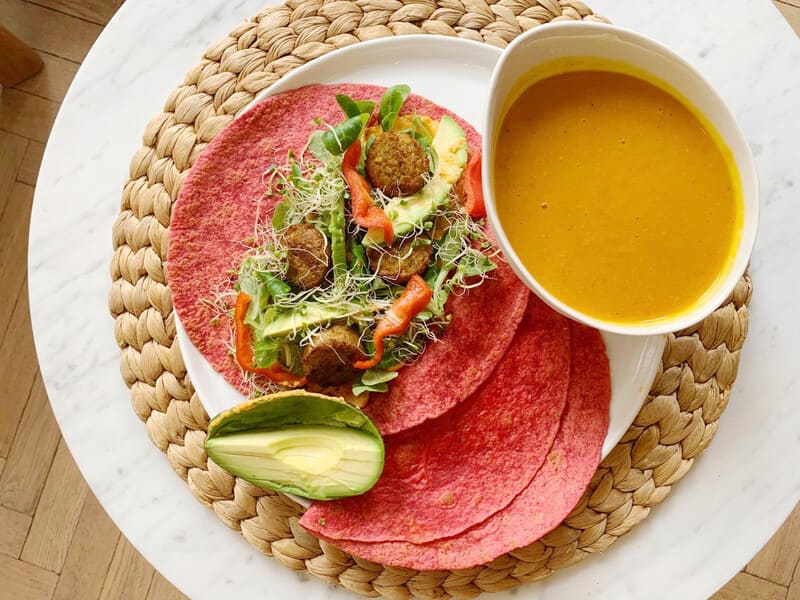 How you make it
Chop all the vegetables into pieces. Heat a small amount of oil in a soup pan and fry the garlic, onion and ginger. Add the curry paste. Add the chopped pumpkin and carrot together with the can of coconut milk and 2 cans of water so that all vegetables are covered with water (add more if required). Cook the vegetables until they are completely soft and puree with a staafmixer/blender until creamy and smooth.
What you need (for the vegetable wraps)
(Vegetable) wraps
Falafel from Maza
Hummus
Avocado
Lambs lettuce
Sprouting shoots (such as alfalfa or tauge)
Capsicum
How you make it
Cook the falafel in a fry pan until crispy. Then heat the wraps in the same pan. Spread the vegetable wraps with hummus. Cover the wraps with lettuce, alfalfa, slices of avocado and falafel. Melissa ate this for lunch but it is also delicious for dinner!
All recipes from bbb health boutique are tasty, healthy and plant-based. Here you will find an overview of all our delicious recipes.

< Back