Springrolls gado gado
Do you feel like something easy, light & healthy? Then try these springrolls gado gado style. Spring rolls are raw spring rolls made from rice paper. You do not have to fry them like with ordinary spring rolls. You can also easily vary with vegetables in this recipe!
What you need for 8 springrolls gado gado
8 rice sheets
1 small pak choi
50 gr bean sprouts
100 gr green beans
1 large carrot
10 cm of cucumber
2 spring onions
hand of coriander
hand of cashew nuts
pepper and salt
For the peanut sauce
2 tbsp peanut butter
1 clove of garlic grated
1 tsp sambal
1 Shot of soy sauce
120 ml almond milk (or water)
Juice of half a lime
Sea salt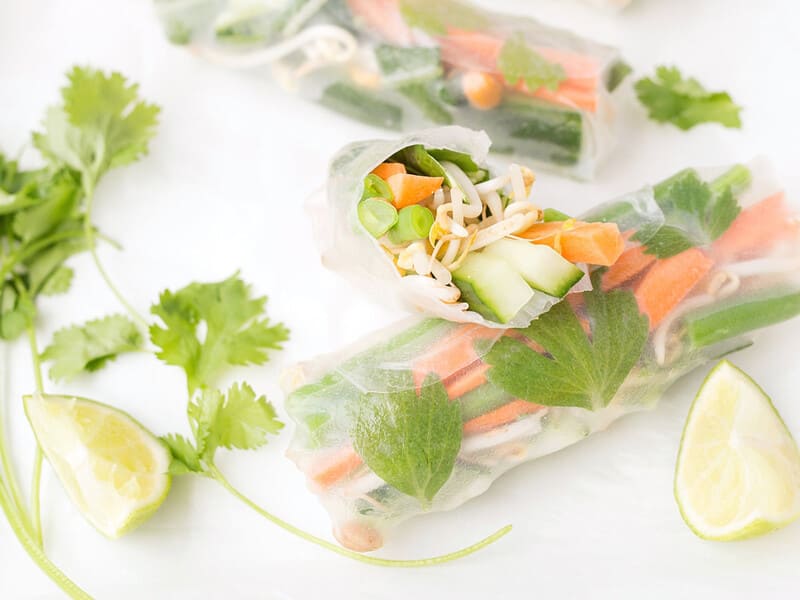 How to make it
Start by blanching the vegetables. Cut the pak choi into pieces. Point the green beans and cut the carrot into strips. Blanch the vegetables in large quantities of water with salt. The carrot and beans need about 3 to 5 minutes. The pak choi and the bean sprouts are ready after 1 minute. Let the vegetable drain on a kitchen paper. Season them with a little pepper and salt. Cut the cucumber into strips and the spring onion into rings. Chop the cilantro coarsely. Prepare a deep plate with hot water. Soak the rice sheet in the water for about 30 – 45 seconds. It must be soft and malleable, but not too soft.
Put the rice sheet on a cutting board. Divide the vegetables over the middle of the skin. Garnish the vegetables with the spring onion and some chopped coriander and cashew nuts. Fold the sping rolls just like an egg roll. Fold the outside sides in first. Then carefully roll it up. Make a cold peanut sauce by mixing all the ingredients with a whisk. Season the sauce with salt and pepper. Serve the spring rolls with the peanut sauce.
This recipe is from Uit Paulines Keuken. All recipes from bbb health boutique are tasty, healthy and plant-based. Here you will find an overview of all our delicious recipes.

< Back