Sweet potato falafel
Do you love sweet potato falafel? Did you know that they're really easy to make? bbb founder Inge loves this recipe from Deliciously Ella. Her children love it too!
What you need (for 10 pieces)
olive oil
2 medium sweet potatoes (about 300gr, peeled and chopped in bitesize pieces)
1 400g can of chickpeas, drained and rinsed
2 tbsp chickpea flour or wheat flour
2 cloves of garlic, roasted
1 tsp cumin powder
1 tsp smoked paprika powder
salt & pepper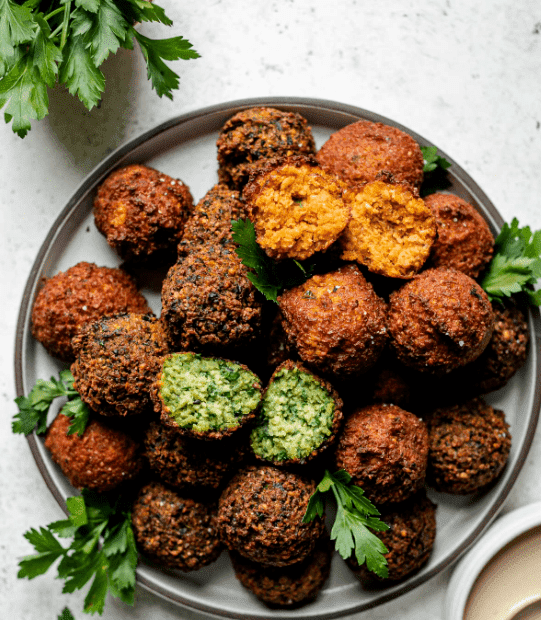 How to make it
Pre-heat the oven to 220 degrees (fan forced 200 deg). Place the pieces of sweet potato on an oven tray. Sprinkle with olive oil and salt and pepper. Bake them for 40 to 45 minutes until soft. remove from oven and allow to cool. Grind the cooled sweet potato with the rest of the ingredients in a food processor until a smooth paste.
Scoop out balls of the mixture with an ice-cream scoop and roll into smooth balls with your hands. Place on a baking tray (on baking paper) and bake in oven for 30 minutes. Check if done by sliding a knife into the middle of a ball; If it comes out clean then they are done. Otherwise bake a little longer. Enjoy!
This recipe is taken from ' The Plant-Based Cookbook' by Deliciously Ella. All recipes from bbb health boutique are tasty, healthy and plant-based. Here you will find an overview of all our delicious recipes.

< Back