Thai pumpkin currysoup
Fancy a spicy soup? Then try this delicious Thai pumpkin currysoup with red curry paste. Not only healthy but also very tasty!
Thai pumpkin soup, a delightful variation of traditional pumpkin soup, embodies the flavorful complexity of Thai cuisine. Made with coconut milk, red curry paste, and fresh herbs, this soup offers a harmony of spicy, sweet, and savory flavors. The velvety texture of pumpkin pairs perfectly with the creaminess of coconut milk, while the red curry paste adds a powerful and aromatic kick.
Often enhanced with ingredients like lime leaves, lemongrass, and cilantro, Thai pumpkin soup reveals a range of flavor nuances. The spiciness is often balanced with a touch of sweetness, creating a well-rounded and satisfying taste experience.
This soup not only provides a culinary delight for the taste buds but also a healthy dose of nutrients. Pumpkin is rich in vitamins and fiber, while coconut milk contributes good fats. The added herbs contribute to antioxidants and anti-inflammatory properties.
Whether served as a warming bowl on chilly evenings or as a sophisticated start to a Thai meal, Thai pumpkin soup remains a delicious and nourishing choice. The exotic aromas and flavors take the senses on a culinary journey, making this soup an irresistible element within Thai gastronomy.
What you need (for 4 persons)
1 tablespoon of vegetable or sunflower oil
1 onion, chopped
4 teaspoons of Thai red curry paste
medium sized pumpkin (about 500g) peeled, pitted and cut into pieces
200 milliliters of coconut milk
200 milliliters of vegetable stock
140 grams of green beans or haricots verts
250 grams of pineapple in pieces
coriander leaves, chopped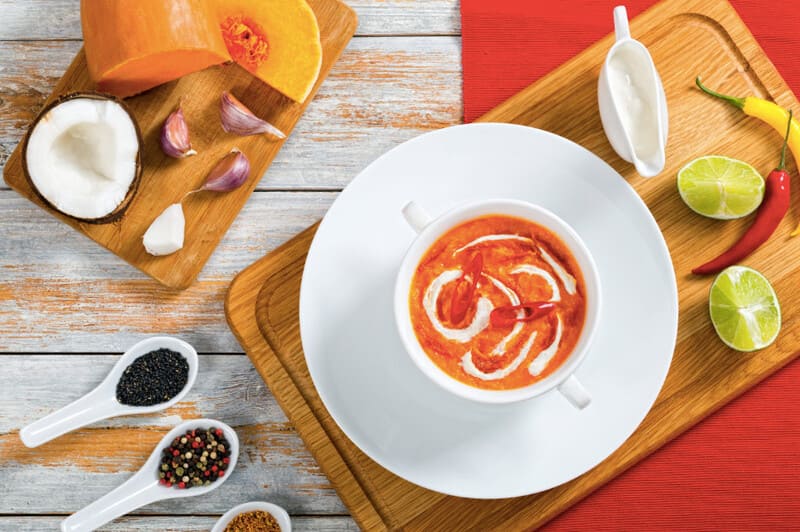 How you make it
Place the pumpkin in a pan of boiling water for 10 minutes, then let it cool down and then easily peel and cut into pieces. Heat the oil in a wok or pan. Fry the onion for 5 minutes. Stir in the red curry paste and add the pumpkin, coconut milk and stock. Let this simmer for about 15-20 minutes until the pumpkin is tender. Cook the beans for 5 minutes and put them in the pumpkin. Stir in the pineapple and coriander (keep some for the garnish) and let it cook for a few minutes until the pineapple is also warm. Sprinkle with some coriander leaves and serve the curry soup in bowls.
All recipes from bbb health boutique are tasty, healthy and plant-based. Here you will find an overview of all our delicious recipes.

< Back