Vegan quesadillas
Are you a fan of quesadillas but are looking for a way to brighten up the traditional ones? Try this recipe for easy vegan quesadillas with hummus and paprika.
Quesadillas with hummus, bell peppers, and spinach form a surprising and delightful combination of flavors that is both nutritious and satisfying. The tortillas are filled with creamy hummus, adding a rich texture and savory taste to the dish. The addition of colorful bell peppers not only brings a crispy texture but also imparts a sweet and spicy flavor that complements the hummus beautifully.
Fresh spinach adds an extra dimension to the quesadillas, with its mild flavor and nutritious properties. This leafy green not only contributes vitamins and minerals but also a pleasant texture.
Quesadillas with hummus, bell peppers, and spinach are quick and easy to prepare, making them an ideal choice for a fast and flavorful meal. Whether enjoyed as a savory lunch or a light dinner, these quesadillas offer a healthy and tasty option for enthusiasts of Mexican cuisine.
What you need
6 wraps
1 portion of hummus (you can also make yourself)
1/2 pot grilled paprika's
300 gram frozen spinach (allow to defrost)
1 red onion
handful of olives without pit
1 heaped teaspoon of dried oregano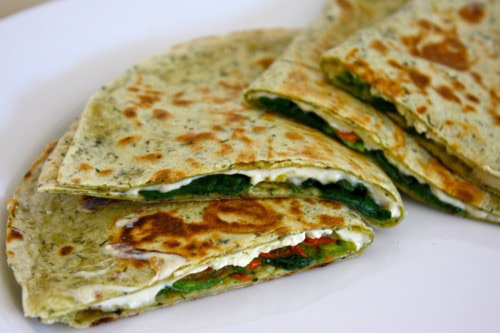 How to make it
Cook shortly in a saucepan the spinach, onion and paprika and then add the olives. Take a wrap and spread this with 1 large tablespoon of hummus. Spread one side of the wrap with the spinach filling. Fold the wrap over and place in a saucepan. Do not use oil! Leave for 2-3 minutes in the pan and turn over. Leave for 1 minute. Cut the tortilla carefully into triangles. Repeat with the other wraps and enjoy!
All recipes from bbb health boutique are tasty, healthy and plant-based. Here you will find an overview of all our delicious recipes.

< Back