Rice salad with tempeh
Fancy a healthy, protein-rich vegan salad? Then try this nutritious, protein-rich rice salad with tempeh!
What  you need for your rice salad with tempeh
70 grams of cooked brown rice
1/4th cucumber
6 small tomatoes
1 hand soy beans
1 tbsp sesame oil
half a block of tempeh
4 el tamari (or soy sauce)
1 tbsp liquid-smoke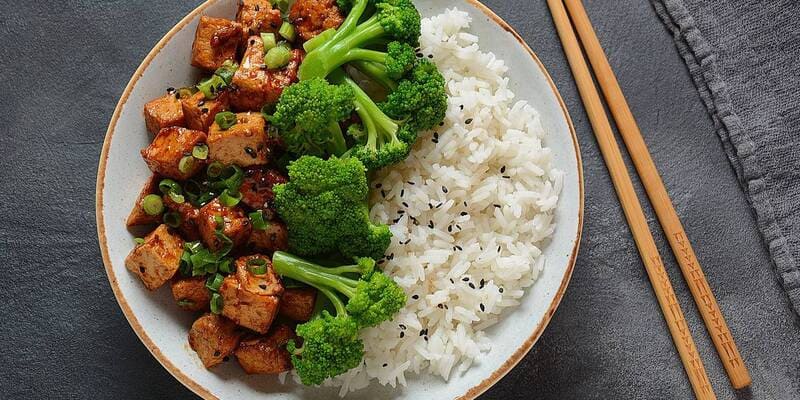 How you make it
Good to know: the tempeh needs to be marinated for several hours in the tamari and liquid-smoke. Do this the night before or in the morning if you have time in the afternoon to prepare this dish. Cut the tempeh into cubes and marinate in a bowl with tamari and liquid smoke. Cook the brown rice according to the instructions. Meanwhile, bake the marinated tempeh in a saucepan with a little oil or use the airfryer at 180 degrees and bake the tempeh goldenbrown in 12 minutes. Cut the cucumber and tomatoes into pieces. Put the rice, tempeh, pieces of tomatoes and cucumber in a bowl and mix in the sesame oil and soy beans. Lets eat!
All recipes from bbb health boutique are tasty, healthy and plant-based. Here you will find an overview of all our delicious recipes.

< Back