Supplements for women
I always get super happy browsing those old herbal and plant books. Those books you can find in old dusty bookstores. And especially those written long ago with beautiful old words about the ancient medicinal properties of herbs and plants and botanical names. A few months ago – at Christmas – I received such a vintage plant and herb guide as a gift.
Supplements for women
I flipped through and read a nice bit about Borage Oil & Black Cohosh. Borage – also called cucumber herb – originates in the countries around the Mediterranean and the oil is extracted from the seeds of the plant. According to the book, borage oil is 'indispensable for every woman' because it ensures a balanced hormone balance.
Black cohosh – its botanical name is Cimicifuga racemosa – is a plant native to North America and 'traditionally used by the Indians to treat menstruation and menopausal symptoms'. The plant used to be called 'root of the sqauw'.
I looked up these two precisely because they are important ingredients of Female Support. More than a year ago I started taking this supplement and I really recommend it to everyone. It's incredible what a difference it makes to me every month, it really takes the edge off those difficult days both mentally and physically. It really is as the herbal and plant guide before me put it so beautifully: indispensable for every woman.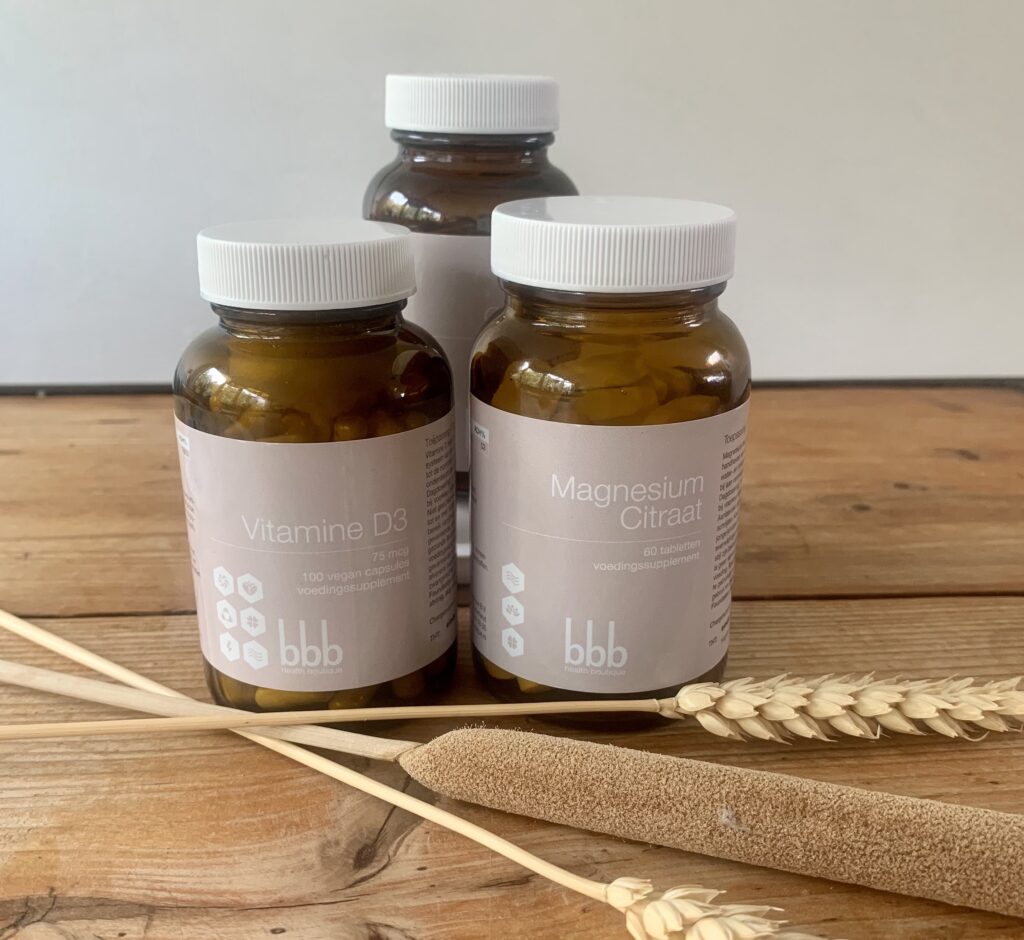 Magnesium and Vitamin D
For many women, magnesium and vitamin D are also indispensable. It can really make a difference with, among other things, low energy, poor sleep and/or fatigue. Magnesium is an important mineral that many people are deficient in. It contributes to the reduction of fatigue and normal muscle function. Supplementing vitamin D is especially important in winter for more energy. Most vitamin D in our body is made from sunlight. The sunshine vitamin can be used to maintain strong bones and teeth and is good for the resistance and maintenance of muscle functions.
At bbb we have developed our own supplementation line containing magnesium, vitamin D and Female Support. The power of herbs & plants has always had something magical for us. In addition, we wanted supplementation that was aimed at women and met our wishes. We have selected the best vitamins & minerals with care and attention.
We have chosen the basis that is important to us. For that, we also took into account the health of the planet. For example, all our supplementation is of high quality, working with the highest standards. Moreover, all ingredients preferably have a 100% sustainable, natural and organic origin. Everything else is vegan. We have also opted for glass jars, which offer optimum protection against the influence of oxygen, moisture and light.
Good supplementation can be found in many vitamin stores. Ask for specific advice. At bbb we really have a very nice supplement line, under our own label, especially for women, in glass jars and vegetable! Are you a member? Complete the Foundation questionnaire and you will receive personal advice on supplementation that suits you.

< Back