Workouts in the hot cabin with physical complaints
Amsterdam | Delft | Den Bosch | Den Haag| Haarlem | Rotterdam | Tilburg | Utrecht
This 30 minute workout is very effective. Exercising in heat is good for blood circulation, has a cleansing effect, is good for the muscles and stimulates fat burning.
Moreover, moving through the heat and guidance is very safe for your body, with little to no risk of injury. You can decide for yourself how warm it gets in your cabin. At bbb you can choose to exercise individually in the hot cabin. This means that you follow your own program in the hot cabin for a certain period.
Sports in hot cabins and physiotherapy
In addition to the many metabolic and cleansing benefits of exercising in the hot cabin, it is also pleasant if you suffer from physical complaints. Because of the heat, muscles get good blood circulation and the risk of injuries is smaller. Moreover, we can tailor-make any desired program.
In consultation with the physiotherapist, exercises are determined that you can perform in the hot cabins. The coaches motivate you during exercise in the hot cabins and guide you during every workout. In addition, attention is also paid to responding to signals from your body (for example, pain in the back during exercises) and how to adjust the exercise accordingly. It is then carefully monitored where things go 'wrong' and this is corrected, so that you can apply this in your own program.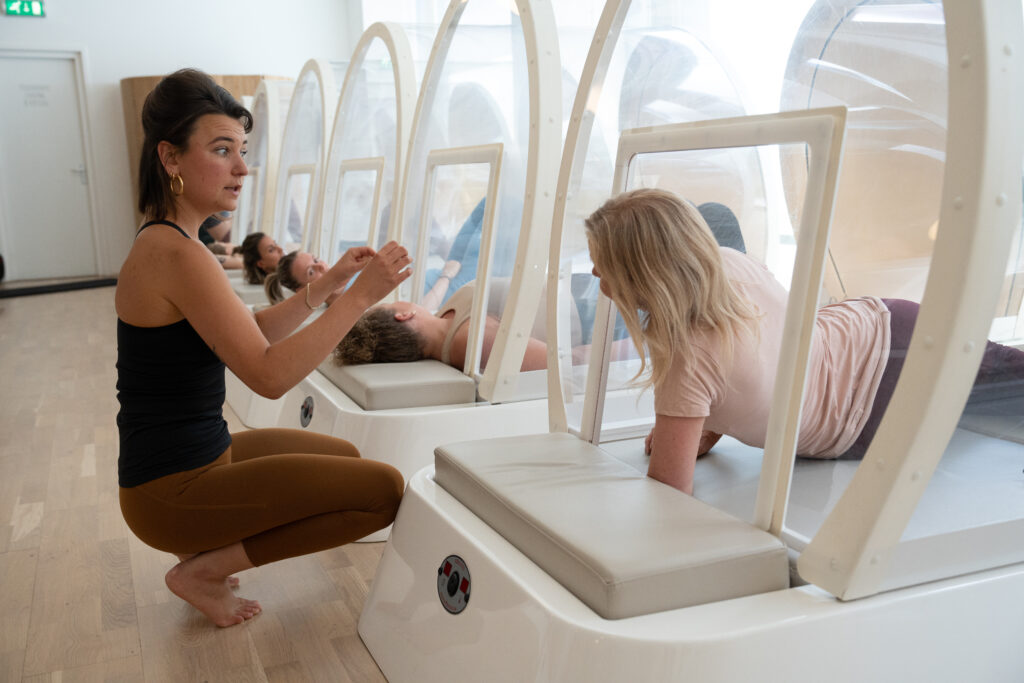 Six benefits of exercising in a heat cabin with physical complaints
Heat from the hot cabins stimulates blood flow, so you don't have muscle pain and complaints after your workout.
Due to the increase in blood flow during exercise in hot cabins, the temperature also helps against various skin conditions.
Has a relieving effect in peripheral nervous disorders.
Due to unloaded starting positions and the emphasis on core exercises, exercising in the hot cabin is good for preventing back and pelvic complaints.
Sports in heat is also good for the rehabilitation process for back and pelvic complaints.
Exercising in a hot cabin relieves rheumatic complaints.
Certainly not unimportant: we know from experience that many women find exercising lying down in heat relaxing and very pleasant!
Do you have questions about bbb physio or do you experience physical complaints? Contact us, book a trial lesson or make an appointment with our physiotherapists about exercising in hot cabins.

< Back