Miso ramen with kale and tumeric
The great thing about ramen is that you can make it exactly the way you like it. So this recipe is more of a suggestion than an instruction. Feel free to deviate from it in all kinds of ways, and experiment endlessly until you find your ultimate recipe. Make it a journey of discovery and try different types of stock and ingredients. Enjoy our miso ramen with kale and tumeric!
This is what you need for miso ramen with kale and tumeric (for 4 people)
4 large tbsp white miso
1 litre Rude Health Ultimate Almond Drink
200 gram firm tofu, drained and chopped into blocks
150 gram kale – rinsed, chopped and without stems
250 gram rice noodles
1 tsp curcuma powder
Soya sauce
Coconut oil or peanut oil (arachidoil) to cook in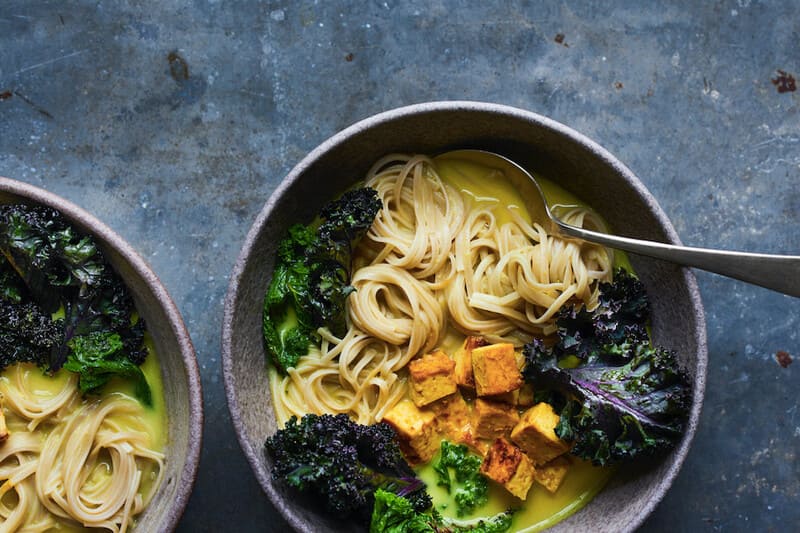 How you make it
Mix the curcuma, miso and 1 tbsp of the Rude Health Almond Drink and make a golden paste. Place 1 tbsp in a bowl, add the tofu and a bit of soya sauce and mix until the tofu is covered. Leave for five minutes. Pour a tbsp of oil in a pan and wok the kale until crispy on the outside and soft in the middle. Add salt and pepper to taste and tip into a bowl. Return the pan to the heat and add some oil. Cook the tofu, without the curcuma paste until golden brown. Set the rest of the pasta aside.
Cook the noodles following the instructions on the pack, drain and divide into four bowls. Prepare the stock whilst the noodles are cooking. Cook the Rude Health Almond milk in a pan and bring to boil. Remove from the heat and stir in the curcuma paste.
Pour the stock over the noodles and place the kale and tofu on top. Make it a bit more interesting by adding maybe a chopped spring onion, fresh or dried chilli, coriander, lime or anything to your taste. Slurp like you've never slurped before! You're at home anyway 😉
This recipe is from Rude Health. All recipes from bbb health boutique are tasty, healthy and plant-based. Here you will find an overview of all our delicious recipes.

< Back