Vietnamese vermicelli salad
Don't forget to try this healthy, nutritious and easy Vietnamese vermicelli salad. Enjoy!
What you need (for 2 people)
120 grams of brown rice vermicelli
1 cucumber, halved, cut into thin slices
2 carrots, grated
100 grams mixed lettuce leaves
1 cup of fresh mint
1 bowl of fresh coriander
1 cup of bean sprouts (100 grams)
2 tablespoons peanuts, bruised with the bottom of a glass
2 tablespoons soy sauce
2 tablespoons of lime or lemon juice
1 small tablespoon of honey
1 garlic clove, bruised
1/2 chili pepper, halved lengthwise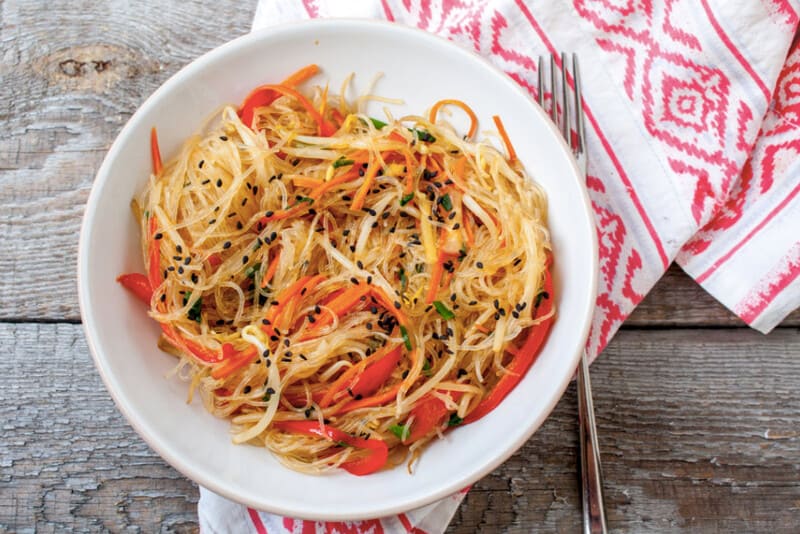 How to make it
First make the dressing: dissolve the honey in 2 tablespoons of almost boiling water, mix with the soy sauce, lime juice, garlic clove and half the chili pepper. Set aside. Cook the vermicelli according to the packaging instructions, rinse with cold water (to prevent sticking) and divide this in 2 large bowls (from which you will eat). Divide the lettuce, bean sprouts, cucumber, grated carrots and peanuts over the two trays. Remove the leaves from the coriander and mint branches, chop them roughly with a knife and spread them over the two bowls. Remove the garlic clove and chilli pepper from the sauce and spread over the bowls. 
All recipes from bbb health boutique are tasty, healthy and plant-based. Here you will find an overview of all our delicious recipes.

< Back