bbb and sustainability
At bbb we think it is important to design our services as consciously and green as possible. That is why one of our core values is sustainability. Not only sustainable in the sense of being green and environmentally conscious, but also sustainable in our relationships with others and how we look at lifestyle changes.
How do we work on sustainability at bbb?
Environmentally sustainability
We use green energy in all bbb boutiques.
There is a thermostat on the hot cabin, so that the heat is released at the desired temperature. The capes on the cabin keep the heat in.
Most of our employees live within cycling distance or work at home.
All our cleaning products are organic and in large refill packs.
All our care products are organic.
We never work with disposable products such as cups, plastic bottles or spoons.
We have water-saving shower heads.
We separate our waste to contribute to recycling.
Our interior construction is largely made of recycled wood, made by behout.
All our printing is printed on recycled paper.
We work as standard with digital tools and e-guides to limit printing.
Our foodprograms are vegan.
We have put together our own label of vitamins and minerals in collaboration with Erica. All our supplementation is plant-based & organic and comes in glass jars.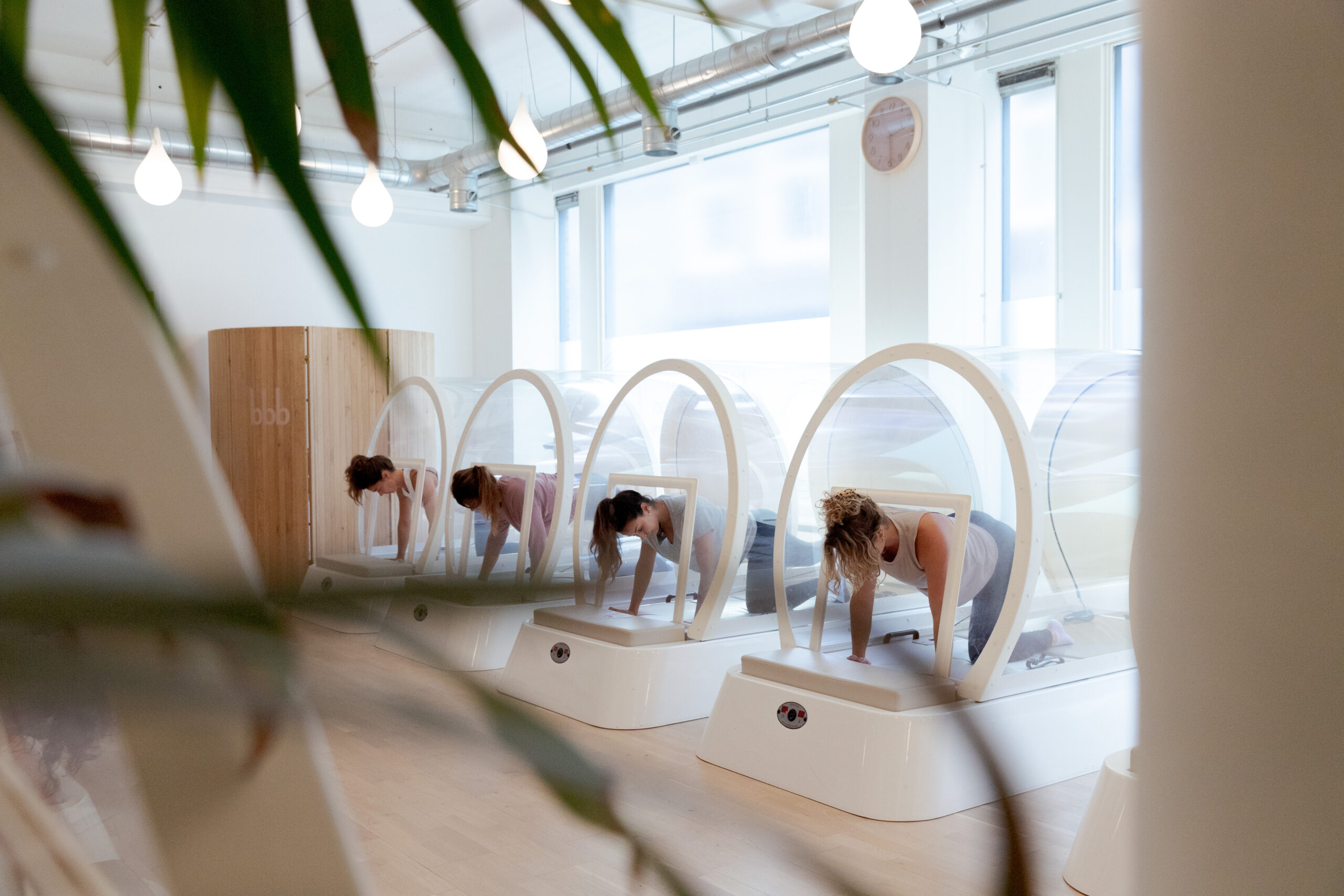 Our sustainable partners
Members can enjoy a cup of Moyee Coffee in the boutiques. Moyee Coffee does not call itself fair-trade coffee but fair-chain. Besides that the farmers not only earn a fair price for the beans, they also roast the beans in Ethiopia.
Our tea comes from Piramide. All Piramide products are 100% organic and contain no artificial additives. In addition, all ingredients are given ample time to grow and bloom and you can taste it! Their pure love for tea is the only addition. That love extends far beyond tea production itself. They take care of the employees in the tea and spice fields and try to relieve the environment on all fronts where possible.
In the toilets of our boutiques, our members can use the sustainable tampon from Yoni. The tampons, sanitary towels and panty liners are made of organic cotton.
We keep the boutiques clean thanks to Klaeny. This sustainable company is taking up the battle with plastic bottles. You purchase a number of bottles and fill them with refill tabs and tap water. This way we use less plastic. Kleany's products are vegan, biodegradable and free of microplastics.
Beautiful linen bathrobes from the Dutch label Yumeko hang in the showers. The raw material for linen is flax and is even more sustainable than that of organic cotton. It uses four times less water.
After a hot cabin workout, members can freshen up with shower gel, shampoo and conditioner from Maria-Stella-Maris. Marie-Stella-Maris is a Dutch social enterprise with a mission. 'Access to clean water and hygiene for everyone, worldwide!' They contribute to this by selling mineral water, body care and luxury home perfumes. The luxury body care products are made with ingredients of natural origin, the scents are distinctive and unisex, and they design all the products with an eye for detail.
Our members can pamper themselves with cleansing lotion and tonic. Erica works with ingredients that are sustainable, natural and of organic origin.
We have put together our own label of vitamins & minerals in collaboration with Erica. All our supplementation is plant-based & organic and comes in glass jars. More information can be found here.
Sustainable with regard to lifestyle change
At bbb we do not work with fully pre-chewed daily menus. We inspire and motivate you to eat healthier in the way that suits you. This creates a healthy eating pattern that you can sustain for a long time. Take our food tools as an example: balance days, basic nutrition and powerful & nutritious.
We coach you. Which means we mirror and motivate you. If you think about suitable solutions yourself, the insight is many times greater than with advice. Moreover, you know best what works for you.
We inspire our members to make plant-based choices. After all, a healthy body starts with a healthy planet. We look at you holistically, we also take care of the environment in which we live.
The focus is on the process, not the result. After all, there is a great risk of failure in the focus on the result. It must be achieved or we will drop out. By simply exercising and eating, the results will come naturally. Really and truly!
We are always open to sustainable suggestions. So don't hesitate to email us with your ideas!

< Back